Work With Local FEGLI Experts Through CompareFEGLI.com
Talk to a local FEGLI Expert who can answer all of your questions about FEGLI through CompareFEGLI.com.
Let CompareFEGLI.com connect you with a local FEGLI expert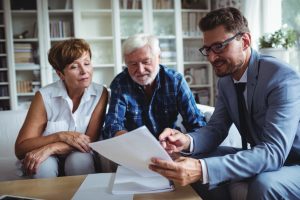 If you are a federal employee, you are eligible for the Basic FEGLI coverage under FEGLI and possibly much more. But the process is not all that simple. For example, an employee has the option to waive the basic FEGLI coverage or gain additional coverage if he/she so chooses.
It is difficult to grasp all the intricacies of FEGLI. What does the Basic coverage entail? How much will you have to pay and what part will your employer, the government, pay? These and many more questions can pop into your mind when you think about your FEGLI coverage.
To ease this difficulty in comprehension, CompareFEGLI.com puts federal employees and retirees in touch with local FEGLI experts, so you can get answers to your many questions from a reliable and knowledgeable source. You can put your mind at ease because the trained FEGLI professionals have experience in dealing with Federal Employees life insuranceand can help you save money. CompareFEGLI.com knows the answers to your questions and can provide you with the answers you need.
A spokesperson for CompareFEGLI.com while mentioning this service said that, "Unfortunately, most people don't fully understand all the little details about their federal employees group life insurance plans. Our FEGLI experts are here to provide you with all the essential information about FEGLI so you can make an informed decision about how much coverage you need and how to minimize the cost of whatever coverage you select."
At CompareFEGLI.com you can ask questions about your basic FEGLI coverage and the FEGLI Rates you will have to pay to maintain this coverage through different stages of your life. You can learn about the amount FEGLI alternatives and what kind of extra benefits you may be able to receive.
You can also ask about the different FEGLI options that are available in the federal government and what FEGLI forms you may need to transact your life insurance business. CompareFEGLI.com also provides you with an FEGLI Option B calculator so you can see how much you will save by choosing a FEGLI alternative through CompareFEGLI.com. There are also many other resources available on the page to help you understand all aspects of your federal life insurance.
About CompareFEGLI.com
CompareFEGLI.com provides their customers with low-priced, A-Rated term life insurance companies to choose from. Using this website for comparison, consumer's FEGLI Option B savings can be calculated and they can find out how much they can save with a policy through CompareFEGLI.com. CompareFEGLI.com is the number one resource for educating you about your FEGLI coverage and reducing FEGLI Option B costs.
Contact Information
Website: http://www.comparefegli.com/
Email: comparefegli@zoho.com
Phone: 888-483-2848